Director of CHCI - Mary Lee Jensvold, Ph.D.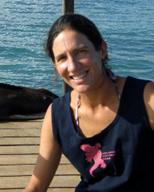 Dr. Mary Lee Jensvold
Mary Lee Jensvold studies communication and other behaviors in chimpanzees. She has been working with the CHCI family of chimpanzees since 1986. In 1985 she received a B.A. in Psychology from the University of Oregon, in 1989 a M.S. in Experimental Psychology from Central Washington University, and in 1996 a Ph.D. in Experimental Psychology from the University of Nevada-Reno.
She specializes in ethological studies of apes, animal intelligence, communication, language, and culture. Her studies include conversation behaviors, private signing, topic maintenance, phrase development, chimpanzee to chimpanzee conversation, imaginary play, and representational drawing. Other research interests include caregiving practices, environmental enrichment, laughter and humor in chimpanzees, space use, and public education about chimpanzees. She is active in improving conditions for captive chimpanzees and advocates humane caring techniques. She is an Associate Professor in the Primate Behavior and Ecology Program and the Anthropology Department at Central Washington University.
Phone: (509) 963-2215
E-mail: jensvold@cwu.edu
Mary Lee's Anthropology Faculty Page
---
Associate Director of CHCI - Bonnie Hendrickson, M.S.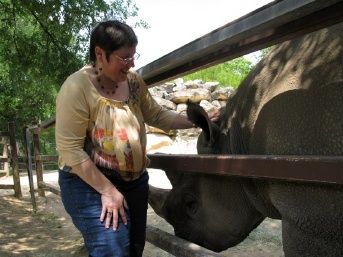 Bonnie Hendrickson
Bonnie Hendrickson has experience in several fields suited to the successful operation of the CHCI. In her earlier years Bonnie worked in marketing, graphic design, meeting planning and fundraising. A CWU alum, Bonnie graduated with a MS in Experimental Psychology in 1999. She then worked as a zookeeper caring for chimpanzees and other animals at the Dallas Zoo for 5 years.
In 2004 she accepted a position as Education and Marketing Director for a local REALTOR association in Iowa. While there she built a widely respected education center, created and implemented educational programs, developed community relationships and organized fundraising events to benefit local causes. She also sat on the board of the Friends of the Animal Center Foundation and raised funds to support the services of the local shelter.
Phone: (509) 963-2363
E-mail: hendricksonb@cwu.edu