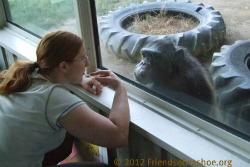 Shannon Wallin, M.S.
Chimpanzee Caregiver
Phone: (509) 963-2216
E-mail: reiders@cwu.edu
Shannon graduated in 2000 with a B.S. in Zoology from Humboldt State University. She was a graduate student at CHCI from 2001-2004 and earned her M.S. in Experimental Psychology in 2004. Shannon has been providing excellent care to the chimpanzees at CHCI since 2004.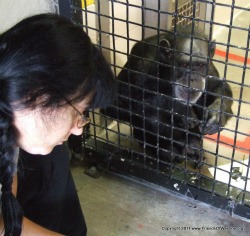 Lisa with Tatu
Lisa Lyons
Chimpanzee Caregiver
Phone: (509) 963-2214
E-mail: schustel@cwu.edu
Lisa is the part-time chimpanzee caregiver and Docent Program Coordinator here at CHCI. She graduated in 2008 from CWU with a Bachelor of Science in Primate Behavior and a Bachelor of Arts in Psychology. Lisa brings a variety of skills and experience from her life prior to CWU, including jobs in real estate, consumer credit counseling, and at Amazon.com. She is also trained as a doula and an elementary school teacher.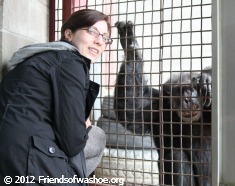 Debbie with Loulis
Debbie Metzler, M.S.
Docent Coordinator & Chimpanzee Caregiver
Phone: (509) 963-2244
E-mail: metzler@cwu.edu
Debbie began caring for chimpanzees in 2006 while earning her bachelor's degree at CWU in psychology and philosophy. She continued on to earn a master's degree with a thesis focus on vocabulary growth in adult cross-fostered chimpanzees. Debbie coordinates the volunteer end of CHCI's education program and outreach efforts. She also is working on developing an advocacy program to help put an end to the exploitation of other captive chimpanzees.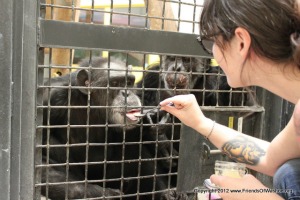 Rozsika serves honeycomb to Tatu and Loulis
Rozsika Steele
Chimpanzee Caregiver
Phone: (509) 963-2216
E-mail: steeler@cwu.edu
Rozsika first began working with chimpanzees in 2008 when she came to CHCI as a summer apprentice. She stayed at CWU to finish her Bachelor degrees in Primate Behavior & Ecology, & Anthropology with a minor in environmental studies. She is currently finishing her graduate work in Resource Management where she focused on ethnography, community conservation, and non-profit leadership.
While her true passion is providing sanctuary to captive chimpanzees, Rozsika also works as a caregiver to humans at our local community hospital, and provides labor support as a birth doula to expectant mothers in Kittitas County. In her free time she enjoys photography and keeping honeybees, a hobby that Tatu, Dar, and Loulis particularly appreciate.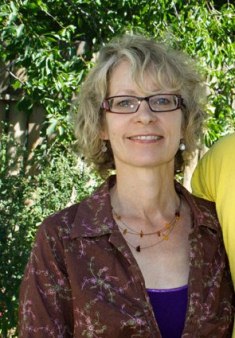 Lynn Whitacre
Program Coordinator
Phone: (509) 963-2243
E-mail: whitacre@cwu.edu
Lynn earned a B.S. degree from Central Washington University in 1989 and met CHCI director, Dr. Jensvold, when they were student employees working summers for the U.S. Forest Service. Lynn keeps the business side of CHCI and Friends of Washoe humming. As our liaison with the university, the community, visitors, interns and employees, she juggles a variety of daily activities including customer service, gift shop management and administrative duties of all types.