August 2, 1976: Dar is Born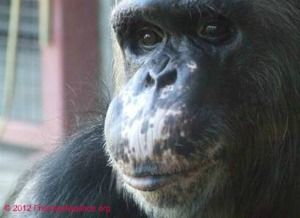 On August 2, 1976, chimpanzee Dar was born at Albany Medical College on Holloman Air Force Base in Alamagordo, New Mexico. His full name is Dar es Salaam, named after the capital of Tanzania. He arrived in Reno shortly after his birth, on August 6, 1976 and was also cross-fostered by Allen and Beatrix Gardner as part of the second project. He and Tatu moved to Ellensburg, Washington to reside with Washoe, Loulis, Moja, and the Fouts' in 1981.
Dar's father, Paleface, was one of the largest chimpanzees in captivity. He was five feet four inches tall and weighed over 235 pounds. Dar's mother, Kitty, was often used for breeding and had many infants, one of which was known as The Hulk. Dar inherited the white skin on his face from his father and his floppy ears from his mother.