How Research Meets Our Mission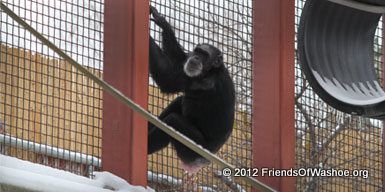 FOW has an active research program examining chimpanzee behavior, sign language studies, communication, and animal welfare. These areas of research all share a common theme of communication. We address three objectives: 1. How do chimpanzees use American Sign Language? 2. How do chimpanzees and humans communicate gesturally? 3. How can we improve animal welfare? We believe that through an understanding of communication, we can improve animal welfare. Friends of Washoe supports Primate Communication scientists and digitization of the data from the project. 
A complete list of publications is here and conference posters and presentations are here.
Objective 1: How do chimpanzees use American Sign Language?
FOW's legacy is with Washoe, the first nonhuman to acquire ASL, and her family. Tatu and Loulis, the remaining chimpanzees, reside at Fauna Foundation. Caregivers trained in ASL and chimpanzee behavior continue making daily records of their signs and interactions with other chimpanzees and humans. Analysis of these records is ongoing and includes student interns at Fauna Foundation and at Central Washington University, supervised by Dr. Jensvold. Collaborations have included Yakima Valley Community College, McGill University, Concordia, and Central Washington University. For decades FOW has supported data collection on chimpanzee signs in written records, film, and videos and their preservation. Studies explore topics such as conversational initiation and repair, private signing, imaginary play, and chimpanzee to chimpanzee signing.
Washoe, Tatu, Moja and Dar were cross-fostered as infants at the University of Nevada-Reno under direction of R.A. Gardner and Beatrix Gardner. For a list of their publications click here.
Objective 2: How do chimpanzees and humans communicate gesturally?
While the FOW chimpanzees use human gestures they additionally use the natural gesture of their species. Research projects have explored various aspects of natural gestures in captive and free-living chimpanzees and this research is ongoing. These studies show that various chimpanzee groups have gestural dialects and that chimpanzees use combinations of gestures to communicate with conspecifics. These studies extend into the human population as well including individuals with autism and deaf signer.
Objective 3: How can we improve animal welfare?
Friends of Washoe has a history of research exploring animal welfare. Early studies included environmental enrichment for the chimpanzees. Later studies explored the relationships between caregivers and chimpanzees at Fauna Foundation, CHCI, and zoo settings. Additionally we have examined ways to lessen the impact of visitors. Most recently we have explored compassion fatigue in caregivers of chimpanzees.