December 30, 1975: Tatu is Born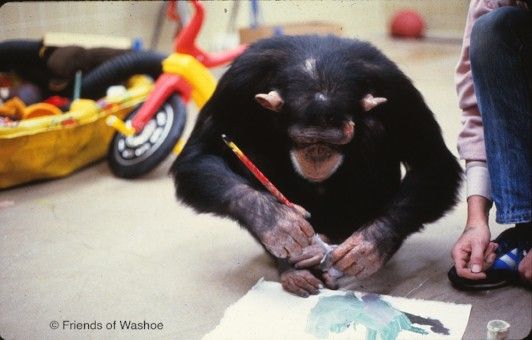 On December 30, 1975, chimpanzee Tatu was born at the Institute for Primate Studies in Norman, Oklahoma. Her full name is Oklahoma Tatu. Tatu is the Swahili word for the number "three". She was the third chimpanzee from the second cross-fostering project (first and second were Moja and Pili) and was brought to the Gardner's lab in Reno on January 2, 1976. She participated in this project until 1981, when she and Dar joined Washoe, Loulis, Moja, and the Fouts family in Ellensburg, Washington.
While in Reno, Tatu was considered the family's precious angel. There was no need for padlocks and keys around her. Unlike Washoe, she never raided the fridge or the cupboards. Her room was always neat and tidy and her toys were always lined up in a perfect row. The Gardners often said that Tatu was the kind of easygoing chimpanzee that they could live with forever.