2011: The Foutses retire, Mary Lee Jensvold becomes director of CHCI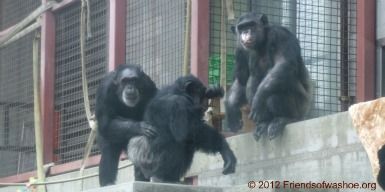 Thirty years after bringing the chimpanzees of CHCI to Ellensburg and after 45 years of dedicating their lives and work to Washoe and her family, Roger and Deborah Fouts retired from Central Washington University. Seven years earlier Roger had moved from the position of Director of the Chimpanzee and Human Communication Institute to the position of Dean of Graduate Studies and Research at CWU and Debbi took over as CHCI's director, Mary Lee Jensvold filling Debbi's previous position as Associate Director. Mary Lee became Director of CHCI after the Fouts' retirement, and Bonnie Hendrickson was brought on as the new Associate Director. The Foutses did tremendous work in progressing how we view and treat chimpanzees in captivity and the wild during their careers and remain an important part of Friends of Washoe in their retirement.
Read this article from Ellensburg's local newspaper to learn more about the Fouts' move to a more grandparent-like relationship with chimpanzees at CHCI and highlights of the work they did for those chimpanzees during their careers.