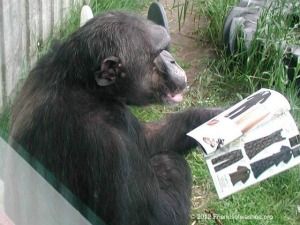 The middle level "Next of Kin" curriculum is an interdisciplinary science curriculum with interactive and engaging lessons for 6th - 9th grade students.
Not only does the "Next of Kin" curriculum educate students on issues regarding free-living and captive chimpanzees, the final chapter educates and encourages discussion on the ethics of experimentation on all animals.
Please feel free to try out our two sample lessons from our "Next of Kin" curriculum.
Chimp or Human? - This lesson is designed to raise student awareness to the shared characteristics between chimpanzees and Humans.
It's All Greek to Me! - This lesson helps students understand how ASL (American Sign Language) is applicable to chimpanzee culture. It also introduces students to some signs that are used by the chimpanzees at CHCI. You will also need this sheet of supplemental information.