For Dar es Salaam, dear friend and brother: August 2, 1976 - November 24, 2012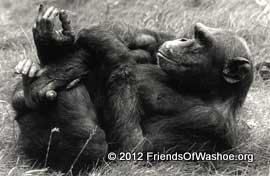 The following are tributes and remembrances shared by those closest to and those impacted by Dar, from his memorial service on December 9, 2012 and messages sent to CHCI after his death.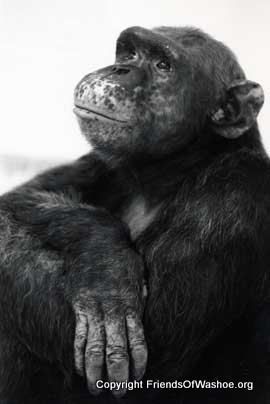 Memorial eulogies in order of presentation:
CWU President James Gaudino
Kathleen Beach
Shannon Wallin
Bonnie Hendrickson
Mary Lee Jensvold
Tributes:
Lisa Schuster Lyons
Rozsika Steele
Caregivers and Friends
Dar es Salaam was born on August 1, 1976, a child of two captive chimps. He was taken from his mother, and came to live with Drs. Trixie and Allen Gardner, where he was raised in a quiet, suburban home as if he were a deaf human child. Dar was a good signer, and an energetic boy who participated in groundbreaking research like the double blind study where he named pictures of objects that the researchers could not see. It's hard to imagine his energy contained in a human home, but the Gardners noted another classic Dar characteristic when they visited us once – that of sweetness. They said that as a small chimpanzee boy, Dar would sometimes wake very early, jump in their bed and kiss them until they opened their eyes and then he'd sign Chase.
Dar and Tatu left their human home with the Gardners in 1981, and came to Central Washington University to join Washoe, Moja, and Loulis and the Foutses. I met the chimps a few months after Dar and Tatu's arrival, just as they were transitioning from a being part of a human family to being part of a chimp family.
Before they were fully integrated with the other chimps, Dar and Tatu spend a lot of time in contact with humans, playing and snuggling with human companions and visitors in the playroom, and they went into the Ellensburg community on occasion, getting outside with human friends, taking trips in the car to Dairy Queen, and Tatu even came to the Valley Cafe once, where my husband Greg served her ice cream at the counter.
Rough and Tumble. That was Dar - tumbling, spinning, swinging, chasing, but always with an easy manner. When I first met him he was a guy's guy– more interested in being with his male human companions than females – It seemed right for a young male chimp to want to be part of a brotherhood of older males.
I trained students in chimp care and data collection, and we followed the chimps in pairs with our pencils and clipboards, or with these huge video cameras observing and recording interactions with humans and chimps. While Dar loved his human friends, it was obvious that the chimps were drawn to one other like magnets. At first, Dar and Tatu only had visual contact with the other chimps, looking at them from a separate enclosure across the hall. Then they got to sit on either side of a closed gate in an overhead tunnel. Dar and Loulis spent hours next to each other in that small space, tickling and grooming through the wire, and just being close.
Finally came the day that the gate was opened, and all five chimps could be together. There were screams and squeaks of excitement, and lots of reassurance from Washoe, and Dar and Lou celebrated this first full-contact meeting – with- you guessed it - a big rousing game of chase.
Dar adored Washoe and seemed so grateful that she loved him and cared for him like a mom. The first time Washoe gave Dar a hug of reassurance – he uttered squeaks of excitement, and looked up with an expression like: Wow! Here is the marvelous person – loving ME!
Dar has also had several very special human friends over the years. You made a difference in his life, and I know he changed yours. I think of the sign for Relationship – two "f" hands connect and move back and forth – you and your realm connecting with me and my realm, influencing and being influenced by each other.
We all took joy in providing different types of enrichment to the chimps, and the quiet weekend shifts were great for one on one time to learn and provide for each chimp's unique interests. Dar was a tinkerer who loved examining objects to see how things were put together, and how they worked. He had that tactile and kinesthetic intelligence like a mechanic, who can figure out how a thing works just by holding it in their hands.
I also loved seeing Dar use his imagination when playing with objects. Once he stole a wallet from Moja, put it on his head and called it a HAT in play with Loulis, with a big playface, amused with his own joke. Sticking a penny under his arm, and signing Purse. And he loved to cover his face with a mask or blanket and swaggering like a scary monster, all the while snickering pants of laughter behind the mask.
Over time, the playroom became the tunnel room, giving the chimps access to another room. The tunnel provided a perfect vantage point to watch and interact with the people in the data room across the hall. Dar coaxed many human companions away from their work. He'd get our attention with a kiss sound, and when you turned, he'd ask Chase. Chase who? Chase Dar! He'd respond. This spot became a great place for both social interactions with Dar and the other chimps, and one on one time with researchers to look at specific behaviors without Loulis interrupting.
When you ignored him, Dar would get the most dejected look in his face and his posture. Dar was also interested in babies and children and animals like Rat Friend, and the Fouts' dog Pumpkin, who would regularly escape their yard to visit the chimps.
In that tiny space in the third floor lab, we did what we could to bring the outdoors in, whether it was filling the lab with large plants from the biology department's greenhouse, or bringing in willow branches or lilacs, which Dar loved. Dar never forgot what it was to be outside, and sometimes he couldn't even get OUT of a particular room, like the year workers had to fix leaky floors and the whole chimp family was crowded in one room. Dar signed to himself Can't Can't, Out Out In In Can't Can't. As Dar grew, it was hard to see him not be able to full extend himself in a leap or swing within the enclosures – but if he had been able to, I wondered whether the enclosure would have contained him during his powerful displays. When the CHCI facility was finally constructed and the chimps moved there in May of 1993, Dar finally got to go OUT.
I'll never forget the joy and exhilaration when the chimps went outside for the first time, especially Dar's reaction. We wondered if they'd venture out tentatively, but Dar took a dramatic leap into the outdoors. To see Dar outside, limbs full extended, running, leaping, displaying, BEING a chimpanzee – I know all the humans there that day were just overcome with emotion. It is one of the top experiences of my whole life to see the joy that Washoe, Lou, Dar, Tatu and Moja had on that first day outside. What a blessing that Dar had nearly two decades in the CHCI facility.
Relationships. I think of all those relationships that impacted Dar directly, and the larger circle of friends that made Dar's happy life possible. First the Gardners, who saw Dar as more than a research subject and saved him from the invasive medical research I fear any of Dar's biological brothers or sisters may have suffered.
I think of the relationships Dar and the other chimps had with Roger and Debbi Fouts and their family, who because of knowing them, worked to improve conditions for chimps everywhere, and provided the best of all captive experiences for this chimp family.
I think the relationship Dar has had with CHCI director Mary Lee Jensvold, and other colleagues who are now professors like Mark Bodamer, Heidi Shaw, and Mary Radeke who have gone on to teach a new generation of students and share the story of the relationships we've had and observed with this chimp family. And the interesting and important research that continues, which spreads understanding and appreciation for all chimpanzees and – hopefully - inspires our species to do less harm to theirs.
I think of the relationships with all the caregivers and friends who were part of Dar's life, serving meals, brushing, tickling, grooming, and always chasing. What joys we shared with this laid back guy.
I think of the relationships with larger community - From the folks who provided Dar and his family with gleaned fruit and favorite toys, to our docents and visitors, to friends from the university, community members, and local legislators who saw the need to provide the chimps with their CHCI home,and lobbied to make it happen.
Central Washington University and Mary Lee Jensvold are continuing to make CHCI a place where chimpanzees can find sanctuary, and we humans can be enriched in heart and mind by the experience of knowing them.
Here is what I learned from Dar:
• Use your imagination to amuse yourself and others
• Love and respect your mom
• Play and laugh often with your friends of all species
• Be quiet and gentle around babies
• Protect your family
• Don't hold onto tension – shake it off through laughter, a good grooming session, or a big energetic display.
I ordered a book for my daughter called the Awesome Book of Thanks. It arrived a few days after Dar died. It's about being thankful for everything in your life, big or small, serious or silly. It came at the perfect time; it reminded me to focus on being thankful for everything Dar was. I wanted to share all the things I am thankful for:
I am thankful for his floppy ears, freckled face, and his sticky up toe.
I am thankful for all the games of chase: fast, slow, and every speed in between.
I am thankful for the somersaults, the foot stomps, the handstands, the quick turns, the hand tickles, and the laughter.
I am thankful for necklaces and backwards masks.
I am thankful for hoses that, when put in the right spot- his neck, his armpit, his pelvic pocket- elicited a fun game of tickle.
I am thankful for large feet and tiny socks.
I am thankful for all the quiet moments of grooming, looking through magazines, or just hanging out together.
I am thankful for his mouth-agape grooming face when he found something exciting to groom.
I am thankful for the gentle wrist kisses and the loud food grunts.
I am thankful for the unexpected alarm calls when loud cars went by that made us all jump.
I am thankful for the kissing noises he used to get people's attention and that many were directed at me.
I am thankful for large mouthfuls of crackers or rice or bread or smoothie.
I am thankful for the way he seemed to be able to pick out every speck of food he didn't want from a bowl of rice, no matter how small they were cut.
I am thankful my daughters got to meet him and for the way he so gently looked them over and tickled their baby feet.
I am thankful for his goofiness, his quietness, his seriousness, his playfulness, and his ability to touch hearts.
I am thankful he was loved by so many people from all around the world and that they were changed by him, and that they in turn will change others.
Most of all I am thankful for our friendship and the 11 years I got to call him my friend.
The leader of our grief counseling session said to us "Tell me about Dar" and everyone smiled. It's an automatic response. You can't help but smile when you think about Dar. My family has a tradition. On the rare occasion when we can all get together, we sit around the kitchen table and stay up late recounting stories of the loved ones who are not with us anymore. We celebrate who they were and what we went thru together. So with Dar's family around me I want to share a few stories about who Dar was.
Dar is always described as the Shy Guy, the Mellow Fellow, reserved and hard to get to know, but once you became his friend you got to know a completely different person.
...like how he would get your attention with a kiss. Lots of chimpanzees use the raspberry or will clap their hands, but, no, Dar had his own signature attention-getter, one that charmed the pants off his friends. Who could resist a kiss from Dar?
Dar loved to tease his friends - he was famous for the "Psych" Chase - just when he got you running good in one direction, he'd turn back and leave you Dar-less on the other side. Dar would be back where he started, hand over his mouth chuckling at us. We'd have a good laugh and start all over again.
He loved to make us laugh. He was a master somersaulter, he loved peekaboo, and he loved to get downright goofy… and he loved it when you got downright goofy with him. Spinning, handstands, somersault marathons, tickles – it was all on the table if it made you smile.
One of my most favorite Dar moments happened during my thesis trials. It's pure Dar, not influenced by any of us. My thesis looked at the chimpanzees' reaction to familiar versus unfamiliar humans. One trial involved a pretty young stranger with long curly hair. She sat quietly in the observation area looking down at a notebook while video cameras recorded the chimpanzees. On the videotape I watched as Dar, this big imposing male chimpanzee, donned a pink cowboy hat and in his best John Wayne strut he walked up to the window and sat down, only his sweet face and that pink hat showing above the window sill. It even looked at one point like he tipped his hat to her – I'm pretty sure I heard "Howdy Ma'am".
There's just no way to describe how it felt when Dar called you Friend.
The building is so quiet without Dar's deep appreciative food grunts, his waa bark at sirens and his territorial scream and boom against the observation windows. There's a hollowness where Dar belongs. All of us still expect to see Dar curled up on the platform in the East room all bundled up in sheets with a stuffed pineapple for a pillow. Tatu and Loulis pause at doorways, looking back as if they're waiting for Dar to join them. Loulis stops in the middle of chase games to look into the East room. I think he's just checking… just making sure.
I look to the time when, as with my family tradition, the stories will soothe my heart and make me remember more than the loss, when I can remember the joy and the friendship with smiles that are not tethered to tears. Until that day I will treasure the tears because they are a testament to that rare and precious gift – being Dar's friend.
I will miss the kisses, the tickles, the teasing... and I will miss him happily proclaiming DAR NUT…DAR FUNNY…GOOD DAR.
Death of a loved one is followed by certain activities. Tears, preparations of bodies and ceremonies, memories, goodbyes, and missing. These have all been happening in our world at CHCI.
Tears: The tears have flowed for the last two weeks like the recent California deluges. Mine are more like Hawaiian ililani; those are unexpected showers. Preparations keep the grieving occupied – for me they stave off the grief. Preparations involve many people. I'd like to thank Brookside Funeral Home, Dr. Erin Zamzow, the museum director and staff, the CHCI family of interns, grad students, and staff, the Michel family, the Wallin family, the Hendrickson family, my family, the chimpanzees' friends, and CWU Public Relations for getting us through these preparations and here today.
Memories: Memories have been shared in many venues. I am so thankful for the many memories that people have shared with me about Dar. We've heard many of those today. I learned a lot at a session CHCI had with members of the CHCI family and grief counselors. Thank you all who shared that night.
Dar was a young lanky 11-year-old when I met him. He was different than many 11-year-old male chimpanzees. He was quiet and kind. He didn't razz people – we may think that's because he stepped back to let Loulis do that work, but actually Loulis is the norm. Razzing is THE business of adolescent male chimpanzees. But Dar had the patience of mother Theresa. He had the heart of the Cowardly Lion – at the end of the movie, which really is throughout the movie. He had the silliness of Harpo Marx. He was funny and he loved being funny. His answer to WHO's FUNNY? was always DAR. And he had the size of the Incredible Hulk.
I watched him go from being a boy to a man. I came into his life in late morning. I was with him at high noon, early afternoon, late afternoon and suddenly it was sunset. His sunset was like sunsets on the equator, they happen very quickly, it's dark before you realize it. So I watched him age just as I've watched my friends, parents, former students, husband, and myself age. The difference is that he aged in one place. That's the hard part. It was very difficult to have someone I love so dearly so very restricted– his death was a relief – I saw him finally free. While we do everything we can to make life as interesting as possible at CHCI, it's no match for where a chimpanzee is meant to be – the forests and savannahs of Africa.
Goodbyes: Today is a time for closure, this is the goodbye. Memorials really are for the living; the grieving. But Tatu and Loulis were unable to join us today, they are the living and they too are grieving. As you know they are unable to leave CHCI today or ever, only in the event of death. And this is the crux of the problem. This is the source of my tears and sadness. No matter what we do to make the lives of captive chimpanzees better we can never get away from their captivity. They are missing moving through a day making choices, facing minor challenges, and having opportunity for learning and growth. What I do for my child, lessons, camps, travels, walks in the park, and trips to Winegars, I cannot do for the chimpanzees. This is what breaks my heart. Only in death are these chimpanzees free.
Now begins the Missing part. I'm not ready to go there. My mornings are already very different but he'll always be in my heart. His full name is Dar es Salaam. He was named for the capital of Tanzania. These words translate to Haven of Peace – he was very very aptly named. That is what he was in life and so I trust that he's found peace in death. We will miss you, you dear sweet friend.
Tribute by Lisa Schuster Lyons
I had the privilege to know the love of an unusual friend. His name was Dar and, yes, he was a chimpanzee but ultimately that had very little to do with what made him special. His was an amazing story and, for just a little while, I got to be part of it. Then, like many stories, his story reached its end well before I was ready for it. I don't have the words now to share with you what it means to me to have been a part of Dar's life. Maybe I never will. But I do know a way to share with you how I dealt with his loss.
I listen to music a lot. I like to have fun with music, I like to share my experiences with music, I like to sing and I love to dance. Once Dar and I shared a fleeting perfect moment when I sang him a Beatles song. It was awhile before I danced again after the death of my friend but I as I grieve I listen to the words that other people have created trying to express their profound feelings about life and I find solace in them. So I sing, in memory of my friend and a love that was an incredible gift.
Here are some of my songs of solace: "Across the Universe" – Lennon-McCartney, "Lost" – Amanda Palmer, "For Good" – from the Wicked Soundtrack, "Hallelujah" – Jeff Buckley, "Help" – Lennon-McCartney.
I dreamt for years about coming to Central with the sole purpose of getting to know Tatu, Dar, & Loulis and learning about care giving and sanctuary. The hardest part about being a student at CHCI is that you know you inevitably will have to say goodbye to the chimpanzee friends that you make here. This year I was given the opportunity to stay on at CHCI as a permanent staff member. Now I get to spend my life playing with chimpanzees, making them delicious meals, working in their garden so that can have healthy snacks in the summer… and the best part, I don't have to say goodbye as I have been preparing myself to do for the last 5 years. Then, this November my friend Dar had to say goodbye to me.
After his passing we kept busy with all of the things that those left behind have to do. Planning a memorial service can be a very cathartic experience. You are so pre-occupied with finding the best pictures and stories about your loved one that you don't have time to grieve or experience the boredom that comes with their absence.
Then comes the day of the event. For me, although I knew intellectually that my friend was gone, it wasn't until I saw his pictures flashing through the projector, many of them that I had taken myself, that I felt the true permanence of his death. I stood and watched as our close friends shared stories of his life and described how grateful they were to have known him. They spoke of his humor, as Dar was always the first to play a prank on you. They spoke of his cowboy swagger, and his fondness of children. Most of all they spoke of him as a dear friend who was never hesitant to tell you that he appreciated your friendship.
And now we have all begun to move on with life, missing our Dar every day. It is very quiet at the sanctuary and the void that he left behind in our lives, and in Loulis and Tatu's, is immeasurable. We still speak of him daily and we are comforted by the fact that he must no longer suffer captivity. He is finally free and his ashes have joined Washoe and Moja's in the soils of Africa.
Dar's death has put this new job, the only job I've ever wanted, into perspective. I now, more than ever, am dedicated to providing a safe and happy home for Tatu and Loulis (and hopefully others). At some point I will have to say goodbye to all of them, as I did with Dar. That is a difficult reality to face but to cope with this, I will every day follow the lesson that I learned from Dar and never hesitate to tell my friends how I feel about them. GOODBYE FRIEND.
Tributes by Caregivers and Friends
Wendy Shaw: I worked with Dar for about 17 years. I don't get really close to many people, and I can say without reservation that the friendship I had with Dar was one of the strongest friendships I've ever had. How do I squeeze a relationship like that into one anecdote? There were lots of sweet, intimate moments, but those moments were ours, and I will selfishly keep them to myself.
I think that, because Dar was so quiet and so enormously dignified, people often failed to realize that had a great, goofy sense of humor and would do anything to get a laugh, especially if he thought a person needed cheering up. He also had great empathy and concern for his friends, and would be upset for hours if he thought he'd hurt someone's feelings.
As well as being a close friend, Dar was a professional colleague with more research experience than any human member of the project. Grad students sometimes forgot this. A grad student once approached me for help in getting Dar to cooperate in the last 30-second trial she needed to complete her data collection. Every time she tried to get him involved in the "game" she was offering, he pointedly turned his back. She thought that because Dar and I were close, I would have some insight on how to get him interested. I asked whether she had tried just being honest with him and asking him to help. She hadn't. So I approached Dar and told him that her "camera work" was almost finished, and that she needed, "Only one more. Very small. One minute," and then her camera work would be "all finished." I asked if he could help her out with it. Once he'd been appraised of the situation Dar simply gave a big, long-suffering sigh, and turned to face the camera, ready to go to work. I suspect that grad student learned something more than research design that day.
One day we had a balloon party. We filled an entire playroom with huge balloons. There were helium-filled balloons tied to every level of the climbing structure, and tied to toys on the floor. We even filled some of them with air, so they'd roll around on the floor. It was the best party ever. When it was all over, the humans went back to work, and the chimps went in search of other amusements. Only Dar and I remained. He contemplated the balloons for moment, then left the room. When he returned, he was wearing a cowboy hat. Gathering up as many air-filled balloons as he could manage, he moved slowly around the playroom, using his hands and feet to keep his balloon herd rounded up and moving forward. Apparently, you could take the chimp out of the ranch, but you couldn't take the ranch out of the chimp. It was oddly fitting, though. Big, capable, a little taciturn, but a loyal friend with a secret heart of gold -- Dar would have made a great cowboy.
Jessica A. Hartel : As we all know, Dar was a sweet, gentle giant with a great sense of humor. From time to time, he would play a joke on me which involved calling me a BOY. I will tell the story when Dar first played this reoccurring joke on me. I entered the night case area and Dar was sitting with his back against the east indoor play area door. He made a kiss to get my attention. I walked over and said, "hi Dar," since he was not looking at me. Dar turned only his head toward me, keeping his back to the door caging, and quickly signed BOY as he again turned his head away from me. I clapped and clapped in an attempt to get him to turn around again. I wanted to tell him that I was not a boy, I was a girl. Dar again only turned his head toward me, quickly signed BOY BOY and turned his head away before I could tell him the truth about my gender. I found it strange that he was calling me a boy. The chimpanzees rarely make signing errors and I thought it was quite obvious, especially with my long hair, that I was a girl, not a boy. I continued to clap to get Dar's attention and he continued to call me a BOY several more times. Finally, Dar looked at me long enough for me to sign ME NOT BOY ME GIRL to which Dar replied FUNNY FUNNY DAR DAR FUNNY FUNNY DAR. As he signed this, he bounced his signs along with his shoulders, bobbed his head, and had a playface. It was as if he was signing in song. I then realized that Dar was playing a joke on me. I then ask him YOU THINK ME BOY and he signed GIRL. I think he knew I was a girl but found it funny to instead call me a boy. We both laughed and I told him he was FUNNY DAR. This became a reoccurring joke between the two of us. We ended the joke with a fun game of chase.
Sometimes after I would serve the chimpanzees a meal, Dar would be in a particularly silly mood. He would cover his eyes with his hand. This was his sign for PEEK-A-BOO. Whenever he did this, he expected me to say something like "Where's Dar? Does anyone see Dar? Dar where did you go? Dar? Dar?" I would walk up and down the night cage enclosure area repeating these words. Like young children, I'm not sure if Dar actually thought I could not see him because he could not see me, or if this was just a funny game. As I would continue to look for him and say "Where's Dar?", Dar would have a playface and laugh. He often would do somersaults in the tunnel while his hand continued to shade his eyes. Sometimes the temptation for him to peek would be too great and he would peek at me through the slits of his fingers. I would then say "There's Dar. I found you." while pointing at him. He would laugh and quickly cover his peeking hand with his other hand. This was one of my favorite games with Dar. None of the other chimps played peek-a-boo with me in this same way.
Most of the time, Dar was laid back, fun, and silly...wanting to lick my knee and smell it, groom my hand, or play tickle. But if you did something he didn't like, boy could he hold a grudge! I remember when I first started hydraulic training, he got very mad at me. I don't know if he didn't like me operating the doors or if it was something else, but for an entire week, Dar would not sign or even look at me. Every time I tried to get his attention, he would literally turn his back toward me, curl up in a ball, and ignore me. I would sign CRY and make whimpering noises, but nothing worked. Towards the end of that week of silence, Dar was sitting in the night cage area tunnel leading to the outdoor area. I walked underneath the tunnel to double check the locks in the west indoor area before moving doors. As I walked back into the night cage area and passed under the tunnel, Dar threw a spoon out at me like an arrow and hit me on the shoulder! I was shocked. Dar had never be aggressive toward me in that way. I immediately signed CRY and whimpered, but he had already turned his back to me. I was starting to get worried that I had seriously done something that might change our relationship. Luckily, the very next day when I entered the night cage area, Dar kissed toward me and ask me to come over. He then groomed my hand and we played chase. Our "fight" was over and we were friends again. I will never be certain why he was mad, but I think it was his process of accepting me in a new role, as a hydraulic operator. That was the first and the last time he ignored me (and beamed me with a spoon).
Austin Leeds: Dar was a giant, but that was his least dominate feature. His huge frame was completely masked by his sweet nature and quiet disposition. Dar was always there to offer a greeting, to play a game of chase, and most importantly, put a smile on your face. Dar provided me with countless smiles and laughs, and constantly made me feel welcome in his home. Dar was friends with everyone and that's what made him so special. He made everyone feel welcome. Like many of his friends, I have countless stories of Dar that I look forward to telling to anyone who is willing to listen. My favorite moments with Dar were simply when he would sign FRIEND. No one could make you feel more appreciated than Dar. Every time he signed FRIEND you knew he meant it, no alternative motive, no jokes or tricks, he just wanted to let you know you meant something to him. Dar was so special and will be missed so much. He inspired countless people and his memory and impact on this world will live on forever.
Anna Wallace: One of the first things that you do when you arrive as an intern at CHCI is learn to identify the chimpanzee residents of the building, this includes those that have passed. Dar was the first chimp I, and so many other interns like me, could tell apart from the others. His droopy ears, freckly face, and enormous stature made it easy to identify him from the other chimps at CHCI and really anywhere else. His appearance was only the beginning of his uniqueness. While he (like all full-grown chimpanzees) could look very intimidating at times, leaving enormous footprints on the observation windows during his displays, he was truly a quiet, kind, and softhearted person. I remember Dar for his sweet kisses, the unbelievably large amount of food he could fit into his mouth at one time, his great games of chase, lights and peekaboo, and the many grooming sessions we had together sitting in the sunshine while on berm duty. I am so happy that I got to know Dar and his family and I know that I will always remember him for his generosity of spirit. Thank you Dar, HUG/LOVE.
Amanda Charlotte Davis: I will never forget my first game of chase with Dar after completing my chimpcare training. We had been running up and down the caging; Dar somersaulting while I tried to catch my breath. We both seemed to be taking a break from the fun when Dar scooted up close to the door of one of the enclosures. I figured he was ready for another activity, so I bent down and signed WHAT YOU DOING DAR?/ After a moment of looking down, Dar looked up at me and signed FRIEND. It was the first of many impacting moments that changed the way I viewed the human-nonhuman relationship forever.
Jackie Buckner: Every night when locking up the chimp house I used to sing and sign "goodnight sweet Dar, well it's time to go... Badadadadum... I hate to leave ya but I really must say, goodnight sweet Dar goodnight". He would lay there and watch me, occasionally signing "good". It was always one of my favorite moments of the day. I think he loved it too....
Kelly McGraw: There are too many memories to choose from but what I cherished most about my friendship with Dar was that it didn't matter how bad the day had been. When I walked into the night cage area and heard a kiss I knew nothing else mattered at that moment. Dar had a way of bringing me out of my world of stress and anxiety and into his world of playing chase, mask and brushing. Dar always gave me a sense of calm, he made it easy to put everything else aside and enjoy what mattered, a friendship between two people who loved spending time together. I'll always miss you Dar. Our time together changed me forever, thank you for bringing me into your world.
Debbie Metzler: I am a big dog person. I used to show all the dog photos on my phone to Dar. We would look at them together, I would sign WHO THAT? and he would sign DOG. Once I even brought my dogs in for a short special visit to the observation area. Dar was very excited to see them. I remember he reached out to Loulis for reassurance because he was so excited. He and Tatu both signed DOG several times while my dogs looked on, perplexed - they had never seen anything like a chimp before! Loulis was also very interested. Though they see dogs a lot on walks, they don't see them very often inside the building. So anyway, I sort of feel like Dar was also a "dog person." One day when I was flipping through a coloring book and found a outline picture of a dog, Clifford the Big Red Dog to be exact, I was excited. I said, "Dar look! Here's a drawing for you." I gave him some paint and the coloring book. He painted the dog red and stayed mostly in the lines. I thought it looked so great, especially because it was the right color! I signed, WHAT NAME THAT? and he signed RED. I said, RED WHAT? and he signed RED DOG. I asked, GIMME THAT PLEASE. He paused, looked at his painting, and then shoved the whole sheet in his mouth. I guess the paint was too tasty to pass up!
Daniella Bismanovsky: Towards the end of my first year of graduate school, I left Ellensburg for a few weeks to collect data for my thesis. Shortly after I returned to CHCI, I had what I thought was an incredible moment with Dar- he signed HUG/LOVE to me for the first time. I remember feeling overwhelmed with joy, and the warm feeling lasted quite a while. The following day when I went to greet Dar, he once again signed what I thought was HUG/LOVE. I was once again filled with happiness, when slowly I began to realize that Dar was not signing HUG/LOVE to me… he was signing BABY. Confused, I asked Dar, BABY? BABY WHERE? Surprisingly (or maybe not-so-surprisingly), he pointed straight at my stomach. I definitely wasn't pregnant! I lifted my sweatshirt so he could see my lack of a pregnant belly, telling him NO BABY HERE! I figured after that he wouldn't mention it again, but the next time I went to see Dar he once again signed BABY and pointed at my stomach. I knew I had gained a few pounds while away, but I didn't look pregnant. For about two weeks, though, every single time I saw Dar he would sign BABY, no matter how many times I reminded him there was no baby in my belly. Nobody would like being called pregnant when they aren't! However, after a few days I remembered how much Dar loves babies. After that, I was no longer offended. I realized how incredibly sweet it was that Dar thought there was a baby in my belly, and would tell him YOU FUNNY! NO BABY with a breathy pant. I have many memories of Dar, but this one is my favorite. Dar is the only person who could get away with calling someone pregnant who is not, and have it turn out to be a kind of compliment!
Andy Gray: My last day at CHCI was difficult because I was terribly sad to say goodbye. Throughout the day I remained chipper, treating it like another other fun day at the sanctuary. But after serving dinner and giving Dar, Loulis, and Tatu their blankets for the night, I said goodnight for the last time with a heavy heart. Dar had already taken his blankets up to his favorite tunnel to sleep, making himself quite cozy. I said goodnight to everyone and although I tried very hard not to cry, a couple of tears slipped out. Dar looked me directly in the eyes for a long moment, and then came down from his comfy nest to offer a bit of reassurance. I took it as a kind gesture, because usually he seemed reluctant to come down from his nest in the evening, even to retrieve his beloved toothbrush. I think that he was acknowledging my sadness and offering comfort. After a couple of wrist kisses and some gentle head nodding, I signed THANK YOU, FRIEND. He replied FRIEND, and went back to his nest of blankets. This is just one example of how sweet and kind Dar was.
My friend and fellow caregiver, Jason Wallin, shared this poem after Dar's death, and it instantly reminded me of my last moment with him. Goodnight, sweet friend.
Warm summer sun, shine kindly here;
Warm southern wind, blow softly here;

Green sod above, lie light, lie light;

Good night, dear heart, good night, good night.
Elizabeth Kuykendall: I was amused and a little shocked the first time I heard the stories of Dar wreaking havoc as a youngster at the ranch in Reno. By the time I knew him twenty-something years later, he had mellowed into a shy, sweet, goofily playful 24-year-old. The contrast between his imposing stature and his gentle temperament somehow made him even more endearing. My favorite memories of him are mostly visual: watching him swing his body around in a display or chase Loulis around the base of the shaky tree at a snail's pace. He did both with the same lanky grace. Perhaps what I've remembered most in the decade since I left CHCI and what I will remember most in the future is singing Dar's song to him each day. One summer a group of interns made up a silly song for each of the chimpanzees to the tune of a popular holiday song. Dar's was to the tune of the chorus of Jingle Bells:
Dar, Dar, he's a star
Freckles on his face
Ears that flop, sits up top
Signs to you play CHASE!
It captured Dar so perfectly that I (and many other caregivers, I think) started singing it to him regularly. It was probably my favorite part of the day. Dar would listen as I sang, and sign tiny CHASEs to the beat of the song. As I sang the last word, he would throw his arms apart, bring them together in a huge, exaggerated CHASE!, and run off.
Lynn Whitacre: I guess I am in a bit of a unique situation at CHCI – because although I have been here a long time, due to the nature of my job - I have had limited contact with the family. I am not a docent and I am not chimp care, and, so, a good number of my 'memories' are actually stories I have heard from others. I have always tried to keep a respectful distance when I am around the family – believing in the philosophy: The Chimpanzees Come First. That said, I have had some unexpected moments over the years when the chimpanzees have initiated some kind of contact with me, and those brief encounters will always have a special place in my heart.
I was fortunate to have a one such experience a few weeks ago – the day that the construction finally ended! Mary Lee came in the observation area to help me get the window tarps down – in order to have the area ready for the weekend Chimposium guests. We moved the first tarp and Dar was sitting outside right next to the window looking in at us. Since Mary Lee was there, he was calm and cool and she signed hello to him. He watched us gathering and folding the tarps and then looked at me and signed 'chase'. Mary Lee said, "He wants you to play chase." I asked her if it was alright- wanting to make sure it would be OK with her. "Sure!" she said. I was so honored and happy to be able to play a game of chase with Dar. I ran back and forth by the window, signing "chase" and "friend" as I went. Dar continued to sign but did not join in – I guess he just wanted to see me run along the window.
I will miss you so much Dar, my heart is heavy with grief, but I am picturing you playing chase with Moja and Washoe now, and that is a good thought.
Katie Vohs: One of my favorite memories with Dar was how excited and happy he got over certain things in magazines. He would rip out the pictures, kiss them, sign about them to himself, or rub the picture all over himself laughing away. Dar was such a sweet, gentle soul. My 4 years as a caregiver taught me so much about life, what's really important and how not to take life for granted all thanks to Washoe, Dar, Louis and Tatu.
Lisa Wilding: My fondest memory of Dar comes from a time I shared with him only a couple weeks ago. During construction of the fencing that was replaced, I spent most of the time with Dar, as he was the only chimpanzee that decided to hang out in the inside room/tunnel provided. Tatu and Loulis preferred to be outside, but Dar has always been a fair-weathered chimpanzee, preferring the warmth of inside. Countless books were shared with him as he took his time looking at every page, watching me sign. After construction was over, I missed that quality time with Dar, so just a couple of weeks ago, I went into the observation area to interact with the chimpanzees. I found Dar curled up in the corner of the lowest wooden platform in his favorite East room. He was looking through a magazine, turning the pages one-by-one gingerly with his lips, not his hands...something he was very good at. He looked up when I came in and I motioned him to come to the glass. After just a couple more pages turned, he set his magazine down and walked toward me. He gave me a kiss through the glass and sat on the edge of the wooden platform near me. I sat on the small ledge next to the glass and crossed my legs out in front of me, teetering to stay on. A feather could have knocked me off there. He then put his big foot on the even smaller ledge on his side of the glass, straddled the distance, and put his massive shoulder next to mine. We stayed there for an unusually long time, both awkwardly balancing, my scrawny shoulder next to his, just sharing the quiet moment. Dar may have been a fair-weathered chimpanzee when it came to the outside elements, but he was never fair-weathered when it came to those whom he considered friends. I miss you, my giant friend.
Sarah Baeckler: My favorite thing about Dar - I just loved how he'd be sitting against the wall all slumped over and still, and you could walk in, give him a little greeting, he'd sign CHASE all coy and sly, and then take off running with a huge playface like he pulled off the best prank ever.
Jamie Knight: One of my favorite memories of Dar was when I was serving lunch and he was the only one to come in that day. I brought in the crackers and opened all of the lids after lining up the containers in front of me so Dar could see his options. Dar points to a container and I served him a few crackers from it before he'd ask for the next container. We went through each of the containers a few times and then Dar pointed behind me. I turned around to see if there was a toy or something that he wanted. Dar just said GIVE ME THAT multiple times while I was searching all over for what he could possibly be wanting. After walking in circles for a while, I asked Dar what he wanted since I couldn't see anything. Dar starts laughing and head bobbing while saying ME FUNNY BOY. DAR FUNNY. I started laughing too at how much he enjoyed playing a trick on me.
Another of my favorite memories was playing Peek-a-boo in the night enclosures with Dar. Dar was sitting on one of the benches and covered his eyes with one hand and began head bobbing and breathy panting. I started doing head bobbing and breathy panting too. Dar rolled around so he was on his back with his feet in the air and while still keeping on hand over his eyes, used his other hand to spin himself in circles on the bench. He then popped back into sitting position and took off towards the the tunnel while signing CHASE. I did some play slaps and stomps to room 4 as Dar slid feet first into the tunnel. Dar held onto the top of the tunnel and pulled his body back through to room 3 where he began somersaulting. I curled over sideways so my head was upside down too and our game of chase turned into both of us covering our faces and head bobbing while playing peek-a-boo with each other while looking upside down. Tatu then came over to play with Dar so after playing a little while with her, I said good night and left the enclosure while they chased.
Anne Johnson: Dar, what a boy you are! I remember trying to "train" you (like that could ever happen) to sit on a hanging tire so that we could track your weight. You would not do anything I told you to do, even though I know you understood. You even punched the tire once when I asked you to touch it, you then stuck your hand out for the treat, I remember laughing so hard and giving you a gummy worm, because in all fairness you did touch it. But I was going about it all wrong, once again I showed my stupidity. You would never do anything someone told you to do! But I know that you and your kind heart would have gone to the moon and back if you thought I needed it! You cared for your caretakers even more then they could care for you! You will be missed!
One day I came into CHCI and I was having a really horrible day, I thought I had it together enough to leave my day at the door, but as I went out to greet all the chimps I broke down and started crying, I did not want to burden the chimps with my problems so started to leave before they had time to noticed but before I could escape Dar noticed, he came flying over and signed friend, he then sat down and asked for a kiss. I pulled it together but it was too late he knew I was upset. He didn't let me leave for a good 20 minutes and a great game of chance. I will never forget the compassion he showed me that day, and at that moment he forever deleted my line between humans and other being! I love you and will miss you!
Robin Potosky: Dar made me smile many time but my favorite memory of Dar making me smile, which I will remember forever, is when we would play outside during chimposiums. Dar always seemed to interact outside more when children came for chimposiums. We would play very intense games of chase where in the middle of a chase he would sit up on the ledge upside down. With his butt in the air I would poke him with a brush to which he would bang his feet on the cage with the biggest play face on then start up the intense chases again. He would leave me breathless every time, I just couldn't keep up with him. But I never stopped playing because I didn't want to disappoint him, he enjoyed every minute of it and so did I. It brings a smile to my face right now just remembering his silliness.
Tracy Campion: At some point during my time at CHCI, I made nicknames for my friends who lived within the building. I signed to Tatu that she was my BLACK FRIEND, as BLACK was her slang for things that were wonderful. I signed to Loulis that he was my FUNNY FRIEND, as he always made me smile. And I signed to Dar that he was my GOOD FRIEND…because he was.
Dar never reciprocated this nickname, and I never thought much about it until I returned from a vacation in 2010. Dar began signing GOOD FRIEND, GOOD FRIEND THERE to the person who was serving his meal. Dar's caregiver came out of the night enclosure area and asked everyone in the kitchen who he could be referring to. I stared into the night enclosure area and saw him signing GOOD FRIEND.
As I walked in, he leapt from the top of the cage onto the ground, where he again signed GOOD FRIEND. I signed in return, YES, YOU MY GOOD FRIEND, DAR. With a wonderful playface, Dar somersaulted and laughed, signing CHASE GOOD FRIEND.
The last time that I saw Dar, I signed HELLO GOOD FRIEND, I MISS YOU. Dar stared back through the glass, gave me a kiss, and signed GOOD FRIEND.
I am at a loss for my good friend. I loved him. I miss him. I feel so very privileged to have had the opportunity to be in his life.
May you rest in peace, Dar. I love you, my GOOD FRIEND.
Katelyn Daughtery: It's not often, if ever, that our lives are profoundly affected within the first ten minutes of meeting someone. But that was the case for me when I met Dar. It's difficult to fully express. Much the same as the grief I feel from losing his presence, and the gratitude I feel for having known him. I first came to know Dar, Tatu and Loulis this year as a summer apprentice at CHCI. What follows is what I shared with my friends of that first ten minutes with Dar:
Today I was given the gift of witnessing the most amazing exchange. I was with a group of Chimposium visitors inside the observation area at CHCI and Dar, Tatu, and Loulis were making it clear in no uncertain terms that we were in their home....displaying, taking running jumps at the glass and hitting it with all fours and making their general displeasure known in normal chimpanzee fashion. This was a good thing. They know it's their home and feel comfortable letting us know that.
Dar is a huge male chimpanzee who is by nature very shy and sweet. But when he displays, or just stretches out his over 5 ft, 160 lbs frame, he evokes awe. I mean he has biceps like a grown man who spends a lot of time on the weights! The presenter explained that these displays were primarily directed at her for being responsible for having brought us into the chimpanzees' home. She signed "hug/love" and apologized to Dar, who appeared very focused on her. After he had made his point, he immediately settled down and gently sat by her on the other side of the window. She let us know how lucky we were that he chose to visit with us because he was normally very shy and likes to take his time getting to know people. Dar and the presenter sat immediately across from each other, eye to eye. Dar asked to play chase which she declined and apologized for. He stared quietly at her for a minute. Then Dar leaned forward and pressed his lips to the glass for a kiss and the presenter put her lips against the window, kissing him back. Although she continued to speak softly to us, her gaze never left Dar. For me, all else was suspended in that moment. She signed, "Dar is a good friend." Dar signed in response, "Good friend" and kissed her through the glass again. And I sat in the middle of the Chimposium with tears running down my cheeks. It's never been a question to me that non-humans experience and express the same emotions we do. And maybe you had to be there, or maybe it just seems cute, but it was so much more than that. This was two adult beings, expressing the same emotions and thoughts to one another in a human language. One of them just happened to be a chimpanzee. I wish everyone could be so fortunate to witness such a thing.
Since that day I have been incredibly fortunate to experience many such amazing interactions with Dar, Tatu and Loulis and I feel so grateful to consider them my friends. Dar is a special, sensitive and sweet soul. No words can express how much he is loved and missed. But what an amazing person he was to have evoked so much love in all who knew him.
Sara Brooks: I've never been good at putting my emotions into words. But the emotional response I am having from the passing of my friend, Dar, is an enormous wave pushing my heart around like a one-man kayak in the middle of the open ocean. The memory I will always keep with me is his eyes. Dar's eyes were one of the most calming and exciting parts about him. While I never had a conversation with him the momentary silent gazes he gave me were enough to make me feel as much a friend to him as those who spent day after day serving his meals and playing high speed games of chase with him. With one look he could tell me that he was bored or that he was upset or that he was sleepy from playing all day.
While sitting on berm, recording my observations, he would often come sit near me and watch the students walk by but no matter how interesting things were outside he always made sure he spared a few seconds to look into my eyes. The week after a family member of mine died he sat with me for the full 30 minutes of my berm shift and watched me. We never talked but his constant stare, as if you make sure I was ok, was more comforting than anything anyone had said or done up to that point. He was such a caring guy. I know that many will miss him, and none more so than his best friends and siblings, Tatu and Loulis, but I hope that he knows that wherever he is now I love him and I am one of the luckiest people in the world for having had a friend as sincere and genuine as him. Farewell, my friend, I hope the four short years I knew you were as great for you as they were for me because you have never deserved less than the absolute best.