Goodbye, Dear Friend, Washoe Pan satyrus: June 21, 1966 - October 30, 2007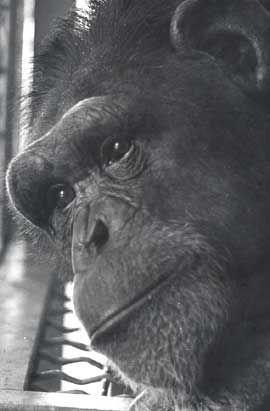 Our beloved friend Washoe passed away October 30, at 8:00 om, after a brief illness. At the time of her passing she was at home at CHCI, with her family and closest friends.
The following are tributes and remembrances shared by those closest to Washoe, from her memorial service on November 12, 2007.
---
Roger Fouts
We are here to celebrate Washoe's life. As the Rev. Lupton Abshire instructed his sister at the memorial service he was leading for their grandmother: "This is to celebrate her life -- if you cry then it becomes about you." I will do my best to follow that advice and celebrate Washoe's life.
Whenever we face a death we face a neurotic and irrational fear of our culture. For some reason we see death as being "unnatural" and something to avoid. This is as ridiculous as stating that you are only going to inhale and avoid exhaling entirely. Also, we must be aware of all the pain and suffering this neurotic fear has caused to our nonhuman primate cousins in our irrational attempt to avoid death and to selfishly add a few more years to our lives.
I want to thank our wonderful musicians, John and Carrie Michel, for playing in tribute to Washoe today and for providing me with the following quote from one of my favor authors: Dietrich Bonhoeffer from Letters and Papers from Prison.
Nothing can make up for the absence of someone whom we love, and it would be wrong to try to find a substitute; we must simply hold out and see it through. That sounds very hard at first, but at the same time, it is a great consolation, for the gap, as long as it remains unfilled, preserves the bonds between us. It is nonsense to say that God fills the gap, but on the contrary he keeps it empty, and so helps us to keep alive our former communion with each other, even at the cost of pain.
Washoe's gap will never be filled with someone else. Her special qualities as a person serve as a model for me to strive for in my own life. Her humor is unforgettable, even when it did involve a warm wet sensation running down my back as I gave her a piggy-back ride and she snorted her FUNNY sign as a comment on the action. Her fairness and good judge of character are something I strive for. You had to earn her respect with your own demonstrated fairness and respect. Her compassion as a person was perhaps her most dominant personality trait. I can still see the film of Washoe at about the age of three or four running quadrupedally to a crying Susan Nichols only switching to bipedal running to sign HUG to Susan as she approached. Once she jumped an electric fence at the edge of her island to rescue a new chimpanzee she didn't know who had panicked and jumped into the surrounding moat. Another time on the island a chimpanzee spotted a snake and began giving an alarm call. Young Booee and Bruno ignored the warning, so Washoe went to the dangerous end of the island signing COME and HUG to them only to finally have to physically retrieve them and pull them to safety. She always took the side of the underdog and the needy. Even when she was introduced to Loulis the first time and he refused her comfort, she bided her time and took him on his terms, and woke him when he was sleeping with a loud bang and welcome the sleepy frightened baby into her protecting arms, where he stayed.
Family was very important to Washoe, both her chimpanzee and human families. In recent years I think her favorite day of the year was when Joshua, Rachel and Hillary returned for Christmas. It was a cause for great celebration on her part.
Some of the family images over her life that remain in the gap for me are when 5 year old Hillary would come up to the third floor of the psychology building after she finished preschool for the day. This was a high point in Washoe's day. She would ask to see what Hillary had in her pockets and five-year-olds always have fascinating things in their pockets. Another is when Josh was a new teenager in high school, he took a job with Greg and Kat Beach at the Valley Café washing dishes and donated his meager pay check to help support his imprisoned sister. I don't know if Washoe knew what he was doing, but when he would come up after school to help us care for the chimpanzees, Washoe showed he very special attention, which I can only imaged he wished some of the girls in high school might do the same. In later years, as our children grew and had children of their own Washoe relished meeting the new family members. When Rachel would introduced Marley and later Gabriel to Washoe she was always fascinated by them and sign to them through the glass to see their SHOES in a very diminutive fashion of "baby talk" with tiny SHOE signs.
For balance, Washoe also needed friends and sometimes took advantage of their willingness to mother her. I can still see the images from Oklahoma when 90 lb 10 year-old Washoe would ask Debbi, this tiny woman you see here, for a piggy-back ride. Ever the mother, Debbi would squat down to help this 90 lb Washoe, known for leaping to branches 10 feet above her head, climb on her back. Debbi would then struggle to her feet and Washoe would drape her head over Debbi's should and sign GO.
The memory that haunts me since her death is from the early days in Reno when I would put her to bed. She would lie in my lap and I would brush her back and rub her temple with my thumb. She was such a contrast to the active child that kept me on my toes the rest of day. As fate would have it that is how we ended our relationship in this life. As she lay there in her final bed I groomed her back as I had done nearly 40 years ago and gently rubbed her temple. But this time she was comforted by Debbi and Mary Lee as well. It was her time to rest, and to awake to the freedom that she had begun her life with when she was born in Africa.
Deborah Fouts
I'm Free
Don't grieve for me, for now I'm free.
I'm following the path God laid for me.
I took His hand when I heard him call.
I turned my back and left it all.
I could not stay another day,
To laugh, to love, to work or play.
Tasks left undone must stay that way,
I found that place at the close of day.
If my parting has left a void,
Then fill it with remembered joy.
A friendship shared, a laugh, a kiss,
Ah, yes, these things I too will miss.
Be not burdened with times of sorrow,
I wish you the sunshine of tomorrow.
My life's been full, I savored much,
Good friends, good times, a loved one's touch.
Perhaps my time seemed all too brief.
Lift up your hearts and share with me,
God wanted me now; He set me free.
Farewell Washoe, dearest friend, you are Free!
Mary Lee Jensvold
I heard there was an earthquake in California at the moment that Washoe died. I also heard that a comet exploded over and over during the week that Washoe died. Cataclysmic events often remind us of our place in nature.
We did what we did to Washoe because of our fascination with our place in nature; millennia of the Earth rattling and the heavens exploding are not enough to convince us.
When I met Washoe, she quickly taught me my place in nature, particularly in her household.
Over time I earned her friendship. I already miss her greetings; her courtesy lasted until the moment of her death.
My friendship with Washoe bred many other friendships and acquaintances. Of all the people that I know here today, nearly all share a connection with Washoe. One friend in that network sent a Buddist prayer in condolence that I'd like to read today
May all beings be peaceful.
May all beings be happy.
May all beings be safe.
May all beings awaken to the light of their true natures.
May all beings be free.
While the Earth shook and stars exploded at the time of Washoe's death, certainly a star was born the day that a baby chimpanzee was born in the forests of Africa and began a journey that changed all of our lives.
Her life was a gift to us all.
Joshua S. Fouts
I used to like to say, "I owe my career to a chimpanzee." But I stopped after a while, because most people have never really understood it.
Indeed, 40 years ago, Washoe changed my life and set it on a course leading to this very day standing here before you. In very broad, yet subtle brush strokes she steered and tweaked it. It began by a fateful leap into my father's arms as he was about to turn back to a career as a bank teller. And it ended ... Well, I don't think it will ever end.
She chose us then forty years ago. Dad always said that at the point at which Washoe entered his life was the point at which he had to come to terms living a life with the tiger by the tail. It was much more than a tiger; Washoe was nothing short of a Boddhisatva or in Buddhist thought, one who is motivated by the wish to benefit other "existences" and to lead them to enlightenment.
To lead them to enlightenment.
That path toward enlightenment was not one of ease. How could it be? Washoe was a revolutionary and a peacemaker.
As a dear friend and collaborator of mine, Rita J. King, often says, "Peace is not the absence of conflict, but one's attitude toward it." Washoe embraced change and forged a path toward peace. How did she do this? She did not suffer fools. She managed people with humor and wit in spite of a life spent in incarceration.
Martin Luther King, Junior said, in his famed 1963 "I have a dream" speech, "As we walk, we must make the pledge that we shall always march ahead. We cannot turn back. There are those who are asking the devotees of civil rights, 'When will you be satisfied?'"
Now I would like to offer an edited version of the end of that paragraph:
We can never be satisfied, as long as our bodies, so similar genetically to our human cousins are used for biomedical experimentation.
We cannot be satisfied as long as the chimpanzee's legally mandated captive habitat is no much more than a suspended cage while its wild one is cannibalized by corporate interests.
We can never be satisfied as long as chimpanzee children are stripped of their parents who are killed for bush meat driven by a profound disregard for life.
No, no, we are not satisfied, and we will not be satisfied until justice rolls down like waters and righteousness like a mighty stream.
No, no, we are not satisfied.
I would like to close by reading a poem by Dr. Benjamin E. Mays who was a mentor to the Reverend Martin Luther King, Junior while he was at Morehouse College and throughout the rest of his life. It is called "God's Minute."
Only sixty seconds in it.
Forced upon me, can't refusse it,
Didn't seek it, didn't choose it,
But it's up to me to use it.
I must suffer if I lose it,
Give an account if I abuse it,
Just a tiny little minute,
But eternity is in it.
I think we can say with confidence that Washoe used her minute well. Would that we could all use ours as fully. Hers was the window into eternity.
Thank you.
Jerilyn McIntyre, Past President of Central Washington University
Washoe's significance to our lives as humans is profound: she was living evidence of the fact that members of other species are able to communicate with each other, but, through Washoe and her chimpanzee family, humans have been able not just to observe but also to communicate with her species. Because of this, Washoe was a reminder of our responsibility to care for all creatures of this planet, however closely or distantly related they are to us. She modeled for us a care and concern for the beings with whom she lived that we would do well to emulate. She touched the lives of the thousands of people who have attended "Chimposiums" and she was a deeply appreciated member of the Central Washington University and Ellensburg communities. We were indeed fortunate to have her for so many years as our "next of kin." We will miss her.
Rachel Fouts Carrico
I am conflicted today.
On one hand I am overwhelmed with sadness, saying goodbye to such an incredible soul as Washoe, and in another breath I am relieved and joyful, since she is free now.
Since hearing of her death. I have looked back on my life with Washoe, the many ways she has influenced me, and how I can use my life to honor hers.
I often give Washoe credit for influencing my decision to marry Brian. I'll never forget, Brian's first introduction to Washoe and her family was characterized by acceptance. There was no displaying. I later reflected that she must have recognized how well he blended with our family.
My most poignant memories of Washoe are the connections Washoe made with my children, a third generation of Foutses to be welcomed by her chimpanzee family. I felt blessed to have introduced her to my children. When I told Marley of her passing, she said she was sad that she was gone, because Washoe was always nice to her and not loud. Wasn't that one of her gifts? How many countless people have experienced her compassion and were changed by it? I found the tribute page to be filled with stories of Washoe's compassion.
Her life was the catalyst of so many things for my family, I would not be who I am today if it weren't for the lessons, friendship, and influence of Washoe in my life. I am the person I have become because of her being part of my life.
I grew up with an incredible non-human sibling whose relationship enabled me to see the world through a broader lens. It is my goal to use these lessons to not only teach to my students in the classroom, but to also live by them in MY family, so my children will also live a life of compassion for all beings, to take everyone on their own terms and not to judge based on societal notions.
What hits my heart the hardest is that Marley and Gabe will not be able to experience Washoe's compassion first hand, but only through the stories shared by those who knew Washoe. Through these stories I hope they will also live a life rich with the colors of Washoe; her love of shoes, coffee and coca cola, her excitement and appreciation of family holiday celebrations.
This sadness is selfish but also cleansing, because I know that although I will miss her presence as a part of our world, Washoe is truly in a better place, now that she is free.
Hillary Fouts
Washoe:
Friend, sister, mother, matriarch, wise woman, caregiver, peacemaker, catalyst, extraordinary lady ... Washoe you were all of these. You changed the world.
Before I knew to speak or that society divided us into different species, I communicated with you and recognized you for the thinking, feeling, lovely being that you were. Knowing you as a sister molded my view of the world.
I have never known a world without you. You did not come into my life; I was born into your family. I never had the conscious realization that non-humans were thinking, feeling, speaking beings; I never had to have this realization because it was all that I ever knew. At age 5 I was shocked to realize that my classmates did not also speak with beings like you. As I moved throughout the world I learned that many others did not share my view of human and non-human beings. These people did not know you. Thank you for this gift of sight, thank you for socializing me.
One of the best ways that we can honor Washoe and her legacy is to realize that we are all capable of raising our children in Washoe's world. We can raise our children to treat all living beings as worthy of respect and kind treatment. Thus, in memory of Washoe, who was a mother herself, show your children how to respect all beings on this Earth and the Earth itself, by respecting it yourself; for we learn best by observing and interacting with those whom we love. This is not enough though, children need to also see and experience diversity – they need to be around humans and non-humans with different lifeways and abilities and experiences. Experience is important.
We can never repay Washoe for the experience she has given to all of us. She has given so much and I am sad to say that although we loved her and tried to enrich her life, her sacrifice was great. Her sacrifice was not chosen. She was taken from her first home and from the mother who suckled her. She was brought into this human primate society and because of this socialization she could never return home. Yes, she in many ways she was socialized and reared as a human child. And in countless ways she socialized all of us.
Dear sister, you are free now. I picture you in the damp forests of Africa from which you were taken surrounded by loved ones who passed on before you. You will forever be in my heart.