NIH to retire all research chimpanzees
The fifty chimpanzees that the National Institute of Health (NIH) was holding in 'reserve' will be sent to sanctuaries. NIH director Francis Collins announced that the 50 NIH-owned animals that remain available for research will be sent to sanctuaries.
Reported in Nature journal of science November 18 2015. Click here to read the full article.
All Chimps to be on Endangered List
The U.S. Fish and Wildlife Service (FWS) published a final rule on June 16 placing all chimpanzees, including those in labs, on the endangered species list, effective September 14, 2015. The decision follows a proposed rule issued on June 12, 2013, in which FWS said there were no grounds for a "separate legal status" for wild versus captive chimpanzees (RRC 6/13/13). Wild chimpanzees have been on the endangered species list since 1990. The designation means that organizations intending to conduct biomedical research or other studies "that could cause harm" will have to apply for a permit from the FWS, a process that is public and requires a 30-day comment period. Such permits will be granted "on a case-by-case basis depending on the facts of the situation," according to the Federal Register notice.
Federal Register Link: https://federalregister.gov/a/2015-14232
---
Dr. Jensvold Sigma Xi Interview
Friends of Washoe Outreach and Behavioral Studies Consultant and Sigma Xi Distinguished lecturer speaks about her work at Fauna Foundation.  View the full interview at: https://www.sigmaxi.org/news/meet-your-fellow-companions/mary-lee-jensvold
---
Volunteer Opportunity at the Fauna Foundation
Dr. Mary Lee Jensvold has announced that Fauna Foundation is accepting applications to the Summer 2015 Visiting Intern Program. Graduates, undergraduates, and post-graduates from various academic backgrounds (e.g. Anthropology, Biology, Psychology, Linguistics, Philosophy, etc.) and all nationalities are encouraged to apply. The program dates are June 15 to August 7, 2015. This rigorous 8-week program combines training in compassionate care for nonhuman primates with experience in non-invasive behavioral studies Check out more information at the Fauna Foundation website.
---
Fauna Foundation and Friends of Washoe are pleased to announce that Dr. Mary Lee Jensvold, former director of the Chimpanzee & Human Communication Institute, will be joining the team at Fauna Foundation.
Dr. Jensvold brings with her nearly 30 years of experience caring for Tatu, Loulis and their family of signing chimpanzees. Mary Lee's various roles at Fauna will include a continuation of her ongoing documentation of Tatu and Loulis' transition and introduction to the Fauna family. Other roles include development, with Gloria, of Fauna outreach and education programs for visiting interns, visitors and specialists; providing opportunities for others to learn to care for chimpanzees with compassion. Mary Lee will also perform fund-raising and grant-making activities as well as in assisting in caregiver training.
Mary Lee has produced numerous publications that include sign language studies and communication in chimpanzees and advancements in captive chimpanzee care. At Fauna, she will continue to publish articles, make presentations and develop relationships with organizations mutually beneficial to Fauna, FOW and the chimpanzees.
Mary Lee will be coming to Fauna in July, for one month, with two CHCI students and will be moving to Montreal, in September, to assume her new position as Research, development and outreach Consultant.
We, at Fauna, look forward to welcoming and working with Mary Lee.
We wish her and her family all the best in settling down to life at Fauna and in Quebec.
Gloria Grow, Fauna Foundation director writes that Tatu and Loulis are adapting to their 'retirement' at the Fauna Foundation and making great strides at developing new friendships, and helping each other make the adjustments to their new home.
To read the full story please click here.
You can keep up to date on the news of Tatu and Loulis by joining the Fauna Facebook page!
Tatu and Loulis were moved to the Quebec located sanctuary from Central Washington University's Chimpanzee and Human Communication Institute in August of 2013. In that light, there are no longer opportunities to visit them at CWU.
Friends of Washoe will continue to support Tatu and Loulis for the duration of their lives at Fauna and that is thanks to the years of generous support by Friends of Washoe members. Friends of Washoe will no longer actively fundraise. Instead we ask you to support Fauna Foundation directly. You can make a donation to Fauna throught their website or mail:
Fauna Foundation / C/O Freeport Forwarding / State Route 9 / Champlain, NY 12919
In August of 2013 Tatu and Loulis were moved to their new home at the Fauna Foundation near Montreal, Quebec. After a long journey from Ellensburg, Washington on August 28 with Friends of Washoe Board Member and former CHCI Director Mary Lee Jensvold, they explored their new surroundings and checked out the other residents. This began a new chapter in their lives filled with new friendships and adventure. Many many thanks to the people who contributed to this success. You can stay up to date on the lives of Tatu and Loulis by following the Fauna Foundation facebook page.
A news team from the Canadian Broadcast Corporation in Montreal visited Fauna in October. Check out the link Click here to view the story.
In a joint statement Friends of Washoe and Central Washington University announced in May that Friends of Washoe, in the best interests of Tatu and Loulis, will move them to another sanctuary. To read the full statement please click here.
In 1981 Friends of Washoe was established to ensure the care of Washoe and her family. We remain committed to Tatu and Loulis and will continue their financial support. Any support you provide will go directly to their care. We also encourage you to support Fauna Foundation. Vist their website at click here.
---
Interested in what happens day-to-day in the chimpanzees' lives? To get a peek at life and work at the Chimpanzee and Human Communication Institute you can:
Visit our blog Pan bloglodytes • on facebook
Established in 1981, Friends of Washoe is a non-profit organization (501.c3) dedicated to the welfare of chimpanzees and especially Tatu and Loulis, the chimpanzees at the Chimpanzee and Human Communication Institute on the campus of Central Washington University, in Ellensburg, Washington.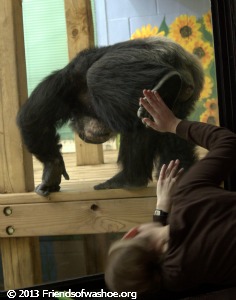 Loulis plays with friend
Author Gains Insight and Inspiration from Advanced Chimposium

Posted on 07/22/2013

In her interview with Diane Rehm of NPR, author Karen Joy Fowler credits her visit to CHCI for helping her understand chimpanzees for her novel We Are All Completely Beside Ourselves. Click here to hear the excerpt. Or follow this link to hear the whole program.

Posted on 04/22/2013

Jennifer Viegas' report "Chimps put passion in their communications" takes a look at a recent CHCI publication. Click here to read the research article.

CHCI Supports Recommendations to NIH

Posted on 02/13/2013

CHCI Director, Dr. Mary Lee Jensvold calls the NIH recommendations regarding Chimpanzees "a watershed moment". Click Here to Read the Yakima Herald Article
Author Gains Insight and Inspiration from Advanced Chimposium

Posted on 07/22/2013

In her interview with Diane Rehm of NPR, author Karen Joy Fowler credits her visit to CHCI for helping her understand chimpanzees for her novel We Are All Completely Beside Ourselves. Click here to hear the excerpt. Or follow this link to hear the whole program.

Posted on 04/22/2013

Jennifer Viegas' report "Chimps put passion in their communications" takes a look at a recent CHCI publication. Click here to read the research article.

CHCI Supports Recommendations to NIH

Posted on 02/13/2013

CHCI Director, Dr. Mary Lee Jensvold calls the NIH recommendations regarding Chimpanzees "a watershed moment". Click Here to Read the Yakima Herald Article