Looking forward to a positive future
In August of 2013 Tatu and Loulis were moved to their new home at the Fauna Foundation near Montreal, Quebec. After a long journey from Ellensburg, Washington on August 28 with Friends of Washoe Board Member and former CHCI Director Mary Lee Jensvold, they explored their new surroundings and checked out the other residents. This began a new chapter in their lives filled with new friendships and adventure. Many many thanks to the people who contributed to this success. You can stay up to date on the lives of Tatu and Loulis by following the Fauna Foundation facebook page.
A news team from the Canadian Broadcast Corporation in Montreal visited Fauna in October. Check out the link Click here to view the story.
In a joint statement Friends of Washoe and Central Washington University announced in May that Friends of Washoe, in the best interests of Tatu and Loulis, will move them to another sanctuary. To read the full statement please click here.
In 1981 Friends of Washoe was established to ensure the care of Washoe and her family. We remain committed to Tatu and Loulis and will continue their financial support. Any support you provide will go directly to their care. We also encourage you to support Fauna Foundation. Vist their website at click here.
---
Interested in what happens day-to-day in the chimpanzees' lives? To get a peek at life and work at the Chimpanzee and Human Communication Institute you can:
Visit our blog Pan bloglodytes • on facebook
Established in 1981, Friends of Washoe is a non-profit organization (501.c3) dedicated to the welfare of chimpanzees and especially Tatu and Loulis, the chimpanzees at the Chimpanzee and Human Communication Institute on the campus of Central Washington University, in Ellensburg, Washington.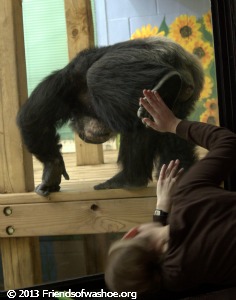 Loulis plays with friend
---
Author Gains Insight and Inspiration from Advanced Chimposium

Posted on 07/22/2013

In her interview with Diane Rehm of NPR, author Karen Joy Fowler credits her visit to CHCI for helping her understand chimpanzees for her novel We Are All Completely Beside Ourselves. Click here to hear the excerpt. Or follow this link to hear the whole program.

Posted on 04/22/2013

Jennifer Viegas' report "Chimps put passion in their communications" takes a look at a recent CHCI publication. Click here to read the research article.

CHCI Supports Recommendations to NIH

Posted on 02/13/2013

CHCI Director, Dr. Mary Lee Jensvold calls the NIH recommendations regarding Chimpanzees "a watershed moment". Click Here to Read the Yakima Herald Article